Today Ranveer Singh is celebrating his 32nd birthday. He first debuted in the Yash Raj Film 'Band Baja Barat' with co actor Anushka Sharma. On his 32nd birthday, he gifted himself an Aston Martin and took his girlfriend Deepika Padukone for a romantic drive.
Actor Ranveer Singh and Deepika Padukone have not publically confessed about their relationship but it is no longer a secret. There were also rumors that the two are living together in Ranveer's apartment near Film City in Mumbai.
Some lesser known facts about Ranveer Singh;
1 Ranveer Singh was dating Ahana Deol before entering the film industry
Ranveer Singh and Ahana Deol were college sweethearts. Later, after entering Bollywood, Anushka Sharma took his breath away in 'Band Baja Baraat' and Ahana started seeing Aditya Roy Kapoor. Despite this, they are still good friends. He even attended her marriage with his current girlfriend Deepika.
2 Ranveer once thought of changing his name.
Ranveer Singh's full name is Ranveer Singh Bhavnani. He dropped his surname because he thought it would become too long and will undermine his saleable value. He also thought of changing his first name 'Ranveer' as it sounds similar to 'Ranbir'.
3 Ranveer and Sonam Kapoor are cousins.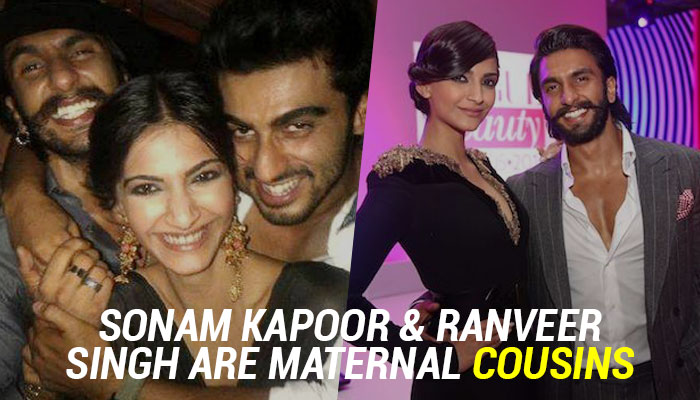 Ranveer Singh and Sonam Kapoor are cousins from his maternal side as he is Sonam's mother's sister's son.
4 Amitabh Bachchan sent a handwritten note to Ranveer.
After seeing his outstanding performance in movie 'Golliyon Ki Rasleela Ram Leela',Amitabh Bachchan  sent a handwritten note to Ranveer to appreciate him.
5 Before his Bollywood debut Ranveer had rejected to act in advertisements.
Ranveer had received many advertisement offers prior to his debut film but he rejected all of them because he felt a fresh face always works much better in movies and doing an add would take that away.
6 Before 'Band Baja Barat' he had rejected 3 films.
Ranveer Singh has rejected 3 big Bollywood movies before making his debut in 'Band Baja Barat'. He was extremely picking about his debut before he was picked for the Yash Raj Films blockbuster.
7 Earlier he worked as a Copywriter.
Ranveer Singh unlike other actors was not into modeling, straight out of college his first job was that of a copywriter with the renowned advertising agency-O&M. He worked as a copywriter before becoming an actor.